See also BenQ W11000 Home Theatre Projector - TRUE 4K

See also BenQ W1700 Home Theatre Projector - TRUE 4K 

First a note about Epson's price / 4k. Epson state their 4k uses "enhancement" which means it's not true 4k. Epson do the right thing on their specifications and spell out resolution as being 1080P (4k enhancement). However looking at the image below (indeed the review) you'd be forgiven for thinking their 4k projectors are just that.
To further confuse the issue Epson's "4k" logo has the word "Enhancement" in small letters.
4k, 8k TV Projectors and UHD content.
Epson 4k vs. BenQ no 4k.
Below are 2 images, one from each projector using 4k content (split)
if you'd put your life on which is which you're a brave person. 
---
  4K is the ultra high definition television standard
This would be a nice addition to any home theatre but not at current prices, beware of 4k claims.
Epson (TW9300 TW8300) while great projectors are filling a gap with their "Pseudo 4k" projectors, they are not alone using this stop gap measure. 
You need to read the fine print regarding "e-shift" etc.
They are not TRUE 4k (input or output) thus they can't use the 4k logo.
VPL-VW1000ES
Specifications [subject to change without notice]
Projection System 3 SXRD panels, 1 lens projector system
Lamp Ultra High Pressure lamp, 330W
Light Output 2,000 lm
Screen Coverage 60" to 300" (measured diagonally)
Panel 0.74", SXRD panel (4096x2160)
Projector Lens Approx. 2.1 times Powered zoom lens / Powered Focus, Throw ratio : 1.27:1 to 2.73:1
Lens Shift (Manual) Vertical ±80%, Horizontal ±31%
Throwing Distance (16:9 Screen Aspect Ratio) Ceiling Installation 80" Screen 2.35 to 5.15m, 100"
Screen 2.96 to 6.46m, 120" Screen 3.56 to 7.77m, 150" Screen 4.47 to 9.73m, 200" Screen 5.99 to 13.00m
All very impressive home cinema projector but we think they will go the way of 3D and that's nowhere for many years to come.
We'll make an argument that the best non 4K displays are already more than enough as they have you focusing on the faults in the scene rather than the intended content, put another way you think you're watching "the making of" rather than the actual show.
Today's best 1080 HD projectors like the Epson TW8200 / Panasonic AE8000 give you that "film" look not so much the "under the microscope" look which makes for a more enjoyable experience in our opinion.
In the last few years each new model is very similar to the last and all better than going to the cinema.
Never buy just from a brochure. Talk to an owner.
---
The sales brochure
You could make a brochure like this..

(Actual image in less than favorable conditions)
or like this..
(Source) We all know which one sells.
Funny how nobody mentions that 3D contrast ratio can only be as high as the CR of the 3D glasses which is around 1,000:1and you don't see all the warnings about 3D till you're home!
A better reason for caution is there is only a very small amount of 4K content available (we assume it's growing) so it would be sensible to see if this is just another fad before paying top dollar for any 4k display.
---
What is 4k? Now we have 8k too?
4k is a much higher resolution TV picture than HDTV and there are two future evolutions of Ultra HDTV currently under development:
4k with a 3840x2160 (8.3 megapixels) resolution for domestic users, see below for more detail.
4k and 8k represent a doubling / quadrupling of the resolution of standard HDTV, 1920x1080.
Projector, TV, Display resolutions in pixels.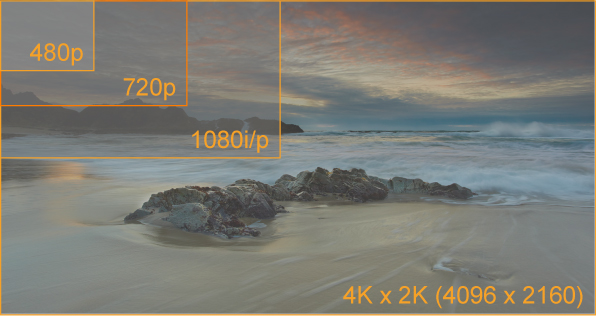 In general sitting at the correct distance back from the screen it's fairly hard to tell one resolution from the other unless the source material is perfect for that resolution.
Projecting a 1080 HD image you may be able to see the individual dots from say 1m whereas on 4k you may have to get as close as 100mm but why would you?
8K FUHD - 7680x4320 (A long way off for domestic use, one advantage of shooting in FUHD is you can crop scenes for lesser resolutions such as HDTV)
4K UHD - 4096x2160 (Digital Cinema like the ones you pay to go to)
UHD(TV 4k) - 3840x2160 (Often quoted as 4k for domestic use)
2K HD - 2048x1080
HD 1080 - 1920x1080 (Australian TV HD, lots of content the most popular projectors max out at this resolution)
HD 720 - 1280x720
HD 480 - 854x480
HVGA - 320x240
SVGA - 800x600
SXGA+ - 1400x1050
UXGA - 1600x1200
UXGA - 2048x1536
VGA - 640x480
WUXGA - 1920x1200
WVGA - 960x540
WXGA - 1280x768
WXGA - 1366x768
---
What HDMI cable do you need for 4k or 3D?
A. HDMI Ver 1.4 - High Speed HDMI Cables
The High Speed HDMI cable is designed and tested to handle video resolutions of 1080p and beyond, including advanced display technologies such as 4K, 3D, and Deep Color. If you are using any of these technologies, or if you are connecting your 1080p display to a 1080p content source, such as a Blu-ray Disc player, this is the recommended cable.
Examples of High Speed HDMI cables prices
---
8k will come to the consumer market in say in 10 years.
In Japan NHK, Sony, Sharp, Hitachi and Panasonic look set to upgrade their infrastructure to 8K. They don't want to upgrade to 4k then do it all again for 8k. This should last 20-30 years and will permit 4k broadcast at the start then later 8k without any futher work paid for to do hardware upgrades. Be aware there is not much 4k content around and almost no 8k.
Is 4k a fad for now like (Glasses) 3D? For Blu-ray possibly yes, for streaming it's looking a lot better.

Now is not the time to buy, give it a few years and see how much content it available.
The first UHDTVs were a hot topic at last year's Consumer Electronics Show. TV makers, hoping to replicate the widespread
acceptance of HDTVs, showed off early models there with price tags of between $9,000 and $25,000.
---
Not only 8k but glasses free 3D now that's what I'm waiting for before spending big bucks!
---
4k Delivery will be mostly via the net

From what we're seeing in trade shows the future for delivery of 4k content / movies will mostly be delivered by streaming video.
Blu-ray 4k looks like being a bit of a dead duck. Sure some will go that way but not the masses. 3D comes to mind.
Netflix (Video below) although not legally available in Australia are already offering a limited 4k service know as UltraHD-4k. They have confirmed via Village Roadshow that they will be officially be offering their service in Australia on a date yet to be set. Australians are accessing Netflix by sneaking past their Geo checks via 3rd party tunneling services so you can do your web stuff with a foreign IP address [example]. After all money is money.
4k content is VERY limited, projectors and other display devices are improving all the time so unless you're made of money NOW IS NOT THE SMARTEST TIME to dive into 4k. One reason is Netflix are still negating with manufacturers to install their chip that can decode Netflix 4k content H.265. Netflix went to the trouble of designing their own system we assume to cope with the otherwise troublesome amount of data. (Given current internet plans on average).
Ultra HD 4K Netflix titles will be available an icon on H.265/Chipped TVs.
To us it all comes down to the price vs. amount of content and letting the manufacturers sort out delivery formats.

Remember VHS vs. Beta?
If the/any 4k price was similar to 1080P HD projectors then sure get one however you could pay for several 1080HD 3-LCD
projectors with what you'll save hanging off for another 24 months.
Finally, there is such a thing as too sharp, you're looking at the super fine details and missing the movie!
It's more enjoyable on the big 100" + screen with that softer "film" look if you're watching the movie.
Just a thought sounds silly but we've seen people so engrossed in the pixels they missed the movie.
HCC
---
Looking for a more reasonably priced true HD 2D/3D projector?
---
See also BenQ W11000 Home Theatre Projector - TRUE 4K

See also BenQ W1700 Home Theatre Projector - TRUE 4K